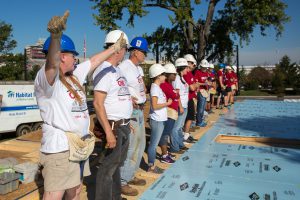 The home of future homeowners Jeff and Carla Wyatt was dedicated on October 1, 2016 at the Virgil T. DeVault Alumni Center, just across the street from IU's Memorial Stadium.
We can't believe how quickly the blitz build (sponsored by Whirlpool Corporation in partnership with the Kelley Institute for Social Impact and Indiana University) flew by!  All told 400 volunteers from Indiana University, the Bloomington community and Whirlpool Corporation pitched in to help construct Carla and Jeff's home.  Jeff might have said it best:  "The last 10 days have been like a party – but one where your house looks better at the end."
As always, we are incredibly grateful to everyone who worked so hard to make this build possible!
Read the IU Bloomington Newsroom's press release on the build.
View the Kelley School of Business' video telling the story of the build.
IU students offer their perspectives on the build via the IU Inc. blog.
Watch the video created by our friends at the Big Ten Network LiveBIG.
Learn about the local perspective in the story published by The Herald-Times.
And check out our collection of photos commemorating the build on our Facebook page, our Twitter feed and our Instagram account!
#whirlpoolbuild #kelleybuild #mchabitat