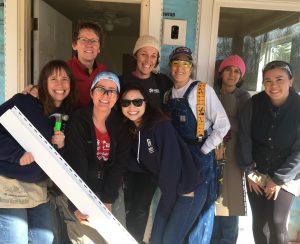 Dear Habitat Family,
When I first stepped on a Habitat for Humanity job site 26 years ago, I knew I was home. I may not have had the most glamorous job (picking up trash), but I was with people who welcomed me no matter my construction skill level (none), faith tradition, sexual orientation, political affiliation, or age.The community at Habitat only seemed to care that I arrived intending to make a positive impact.That was enough for them.
Over the past several months, I have found myself often harkening back to those beginnings as I see our country divided beyond what I've ever experienced before. Polite political disagreements have given way to hateful name calling. My social media feed has been filled with calls to action, angry protests, and comments of disbelief. We wonder, "How will we ever come together again as a country?" We at Habitat know a simple way of doing just that– a small step in the scheme of things, but one which has never been more important.
For four decades across the globe Habitat has relied on the Theology of the Hammer, first coined by our founder Millard Fuller. The concept is simple–that personal disagreements don't matter. If you give people a cause to work on side by side, they can set aside their differences for the good of the whole. This is the work we commit ourselves to daily at Habitat– a world where bank presidents and tellers have equal ground for a day, where Democrats and Republicans work together on the home of a member of their community, where women in hijabs work alongside rabbis and priests. Our vision of a world where everyone has a decent place to live has a place for everyone. We need everyone to arrive ready to embrace this audacious goal, and we are thankful we've been blessed with a community here in Bloomington that does just that.
As you know, at the end of the summer I will bid Bloomington farewell for a while. My family is moving to Germany for a year where we are excited to immerse ourselves in a new culture, create new friendships, and continue to build community in new ways. As I prepare to leave my role as CEO of this tremendous affiliate, I want to assure you that Habitat remains in my heart. I will of course continue to do anything possible to ensure its success.
I am grateful to each of you for placing your faith in my leadership, your trust in our organization, and above all for showing me exactly what it looks like to build a community of loving acceptance. As Habitat continues to grow and flourish in Monroe County, I know you will offer your next leader those same gifts which will ensure that our community continues to thrive and grow. Each of you is Habitat for Humanity of Monroe County. That doesn't change when I depart. You will simply welcome someone new onto the team.
We first came together to support hard-working families in dire need of a decent place to call home. That work is ongoing. What keeps us from tiring is our beautiful community of diverse acceptance. May we each carry that love out into the world in our own ways as an illustration that hope continues to grow. Our work is at least as much about humanity as it is about human habitat.
Take good care, and please do keep up your awesome work on behalf of Habitat!

Kerry Thomson
President/CEO
Habitat for Humanity of Monroe County