…and help to fully sponsor "The House That Kerry's Love Built."
For 26 years, Kerry Thomson has poured her love, passion, and talent into the mission of Habitat for Humanity. Kerry's tireless effort and commitment to the vision of a world where everyone has a decent place to live has inspired an entire community to partner with more than 184 families who now own safe, decent, and affordable homes.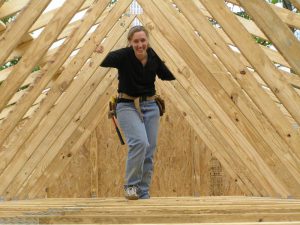 In honor of this beautiful legacy of building hope in Monroe County, we are inviting those who have been touched by Kerry's work to help us fully sponsor "The House That Kerry's Love Built." 
Consider making a gift today!
You are invited to visit our secure fundraising page HERE or mail a payment to our office.
One June 24 we will be celebrating Kerry's Habitat legacy. An informal program will begin at 6:00. Please Join Us!
Please RSVP to habitat@monroecountyhabitat.org. And send along a story or note about Kerry if you are so inclined!
Overflow event parking will be available at Bender Lumber.
More parking options: