Tickets for Bloomington High School North's Evening for Habitat are available for purchase HERE!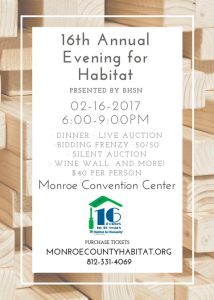 The Bloomington High School North student chapter of Habitat has sponsored 16 homes for deserving families in Monroe County over the past 16 years. Currently, the intrepid students at BHSN are working hard building alongside future homeowners the Rodriguez family, whose home is set to be dedicated this spring.
Our BHSN chapter organizes a number of fundraisers throughout the year. The largest of these is the annual Evening for Habitat dinner and auction which will once again be held on Thursday, February 16th from 6:00-9:00pm at the Bloomington Convention Center. Funds raised will go directly to help build North's 17th home in 17 years, supporting Habitat's vision of a world where everyone has a decent place to live.
About our Bloomington High School North Chapter:
The Bloomington High School North chapter was founded in 1998 by students and received official independent campus chapter status in 2000. The chapter works in partnership with our Habitat affiliate. Monroe County has some of the most expensive housing units in the state, lending additional urgency to the mission. All the money raised by the chapter goes toward building houses. The advisors of the BHSN chapter are Geoff Aiken, Don Adams, Ella Madison and Cassie Soller.