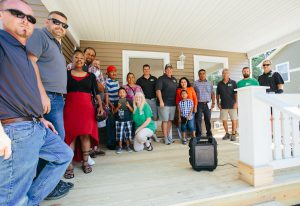 This summer, June 11-22, we will begin our 8th biennial Builder's Blitz! Builder's Blitz is a 12-day build where local, professional home builders join together with their subcontractors and suppliers to build houses for future Habitat homeowners with DONATED materials and labor.
This year we will be building for four families (two single-family homes and one paired home) in our TrailView neighborhood. Our goal this year is a fully underwritten build and proceeds from our premiere sponsor, ReStore, is underwriting the cost of three of our four homes.
Thanks to our signature builders who've pulled out all the stops in cultivating subcontractor and supplier commitments:
Blue Line Build & Design Inc.
John Ingram Builders Inc.
Newhouse Construction
Stay tuned for more updates and a full list of all builders, sub-contractors and suppliers as we near build time!