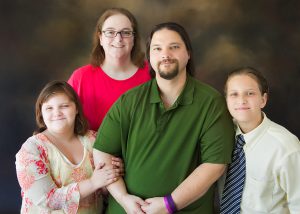 There are a million practical reasons the Blythe family needed a new home.
With multiple allergies, Jennifer Blythe takes several medications daily to tolerate living in her house where the carpet is 35 years old, and there is latex (one of her more severe allergies) in the paint and glue holding down the flooring.
Jennifer also faces challenges moving around their current house. "Our new home will be wheelchair friendly," she said. "The door frames are wider and the shower will be accessible which will drastically improve my quality of living."
Jennifer and her husband Shawn worry about the safety and air of hopelessness in the environment where they were raising their kids, Alexander (11 years old) and Lirum (8 years old). More important than any tangible needs, are the intangible, perpetual improvements that come with the Blythe's partnership with Habitat.
The Blythe family moved to southern Indiana from Seattle. They chose Bloomington because it offered a larger, diverse population and a strong social safety net and were also able to transfer their section 8 voucher. The family quickly invested in their community. Jennifer, a gifted knitter and crocheter, donates items to the YMCA holiday bizarre where the family are members. Shawn, who holds a degree in computer science, rebuilds computers to donate to others. They volunteer at Community Kitchen, Lotus Festival, and the 4th Street Arts Fair.
Participating in their community is important to the Blythe's. Jennifer explains, "I've found that if you're willing to work with somebody, they are willing to work with you. And that's how we approached Habitat." With support from their church, and a lot of hard work, Jennifer and Shawn paid off their debts to qualify for a home. They fulfilled their sweat equity hours by donating handmade items to sell at the ReStore and applying Jennifer's degree and expertise as a paralegal to assist in grant writing and filing at the Habitat office.
Once the Blythe's family home is complete in February 2019, it will be a standing symbol of something important; something the family cannot see, but they will feel everyday for generations to come. "It's changing our lives for the better, and I know my kids will be so much better off." Jennifer explains. "It's not just a health improvement. It's also a change in the way our family feels about being a family. Like we're achieving something.
"We're all working together toward this goal, and we will have this house at the end of it, and it will be ours. And that gives you a sense of hope, and that is more than all of the physical aspects of owning a home. The hope and the knowledge that you're improving your life."
—
The Blythe home is sponsored by the Monroe County Government.