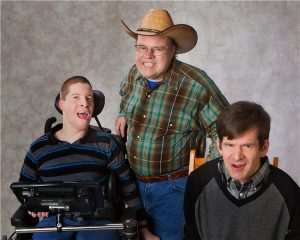 More than 20 years ago when Brian Roedl, an adult with severe physical and mental disabilities, moved out of his family's home into a group home, his mother Mary Beth wrote about her hopes for her son. "We wanted community and stability for Brian," she said. It's the same goal that is being fulfilled this spring through Habitat.
Three Bloomington men with developmental disabilities—Brian along with Michael Ely and Bob Pate—will occupy the seventh Habitat home in the Trail View neighborhood adjacent to the B-line Trail. They currently live in an apartment on Bloomington's west side and have caregivers 24 hours a day. Stone Belt provides residential services for them.
Brian's parents, Fred and Mary Beth Roedl, estimate that Brian has had to move five times in the past 12 years, as funding guidelines for adults with disabilities changed, and housing availability and conditions varied. Finding suitable housing for adults with disabilities is often a major worry for their parents. That concern brought the Roedls together with Michael's mother, Sharon Hauss, two years ago. In their quest for stable housing for their sons, Fred, Mary Beth, and Sharon decided that home ownership was the best option.
Thus began a quest to make that happen. Section 8 allows their subsidized payment to be applied to a mortgage for any client who can quality for a home loan. Fred called almost every bank in Indiana to ask about securing a home mortgage for Brian. "But the banks only wanted one check for the mortgage; they wouldn't accept two checks each month, one from the homeowner and one from Section 8," Fred said. Sharon, who is on the steering committee of a group called Back Home in Indiana that advises people with disabilities on financing homes, consulted the group's executive director, Deborah McCarty. "She steered us toward Habitat," says Sharon. "And the rest is history."
Habitat was willing to find a solution that worked for home ownership for the group. The Habitat house will be handicapped accessible, with three bedrooms, a no-step back entry, ramps as needed, two large baths with roll-in showers, and 36-inch doors throughout.
"The goal is always to help people with disabilities become as independent as possible and to have fulfilling lives integrated into the community," said Mary Beth. "Brian, who attends a community-based day program, has received wonderful services over the years through Life Designs (formerly Options for Better Living) and now through Stone Belt."
Michael, who moved out of his mother's home just a year and a half ago, uses a wheelchair and communicates through an electronic communication device that is attached to the chair. He has earned an associate degree in computer technology from Ivy Tech and has an interest in web design.
Bob works in the Cook Room at Stone Belt and has a second job on a seasonal basis with Bloomington Parks and Recreation.
Each adult who will be living in a Habitat home contributes "sweat equity," such as working on building sites or at ReStore or providing other services to support Habitat activities. Sharon, Fred, and Mary Beth are also contributing sweat equity.
With his computer skills, Michael has worked on the Habitat website and developed a database in Microsoft Excel for the Habitat ReStore. Bob and Brian, along with their job coach, go to work each Saturday at the Habitat ReStore where they contribute hours for their sweat equity.
Michael's mother Sharon has volunteered for more than a year at the Habitat ReStore sales desk to contribute sweat equity. Mary Beth and Fred Roedl have done a variety of things: working on  construction sites on other Habitat homes, volunteering at ReStore, and assisting with special events for Habitat.
The three roommates, their caregivers, and their families are all excited about the move into a Habitat home this June. "These men will have a home in a neighborhood and be part of a community," said Mary Beth. "Accessibility is so important. Their new neighborhood is near downtown and close to the library and the farmer's market." And Bob will have a new neighborhood where he can walk his eight-year-old dog Princess.
"Everyone at Habitat has been wonderful," said Sharon, with echoes by Fred and Mary Beth. "They have been very supportive and accommodating."
"Before we had transience," said Fred. "Now we will have permanence."