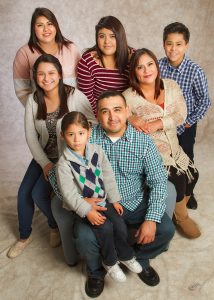 When a door closes behind you, look for another.
This is Gustavo and Itzel Diaz's philosophy, and it has paid off. Instead of focusing on the closed door, they put their faith in God and Habitat and opened a new door.
After Gustavo lost his supervisory position at a Los Angeles factory, "Things got tough," says Itzel. "I prayed and prayed for guidance and a sign." Then her mother, who had visited Bloomington, told Gustavo and her about opportunities in the area. After their truck sold to the first person who looked at it, the couple had enough money to buy the entire family's airfare. "I knew in that moment that everything would work out for us," she continues.
Today Gustavo cooks at a local restaurant, and Itzel works in food service at Indiana University. They reside in a tiny apartment with their three older daughters and two younger sons: Grisel (age 20), a cashier; Damaris (age 19), a nursing student; Itzel (age 17), a high school student; Gustavo (age 13), a soccer fanatic, and Daniel (age 3), a fan of Daniel Tiger's Neighborhood.
Gustavo's brother, Arturo, will soon be a Habitat homeowner. Gustavo and Itzel will follow suit. Despite concerns they would not meet Habitat's qualifications, the couple put its faith in God and will begin construction on the family's new home in late March.
"When I have lifted my heart and prayed for guidance, miracles have happened for us," Itzel says. "In this country, people of low income like us dream about having their own home, often with little hope. That we get to help build it ourselves holds special value for us," she says.
What is the first thing the Diaz family will do after the dedication of their new home this summer? Itzel doesn't hesitate: "Pray over our house and thank God for that great blessing."
 The Diaz Family's House is sponsored by: