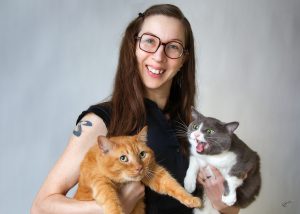 You may recognize Amy Fender's work more than her name. She "sweated" behind the scenes as a volunteer photographer long before she had to accrue her own sweat equity hours as a Habitat home buyer.
Amy, who trained as an illustrator and painter, never intended to become a photographer. "As I went through life, trying to get a job," she explains, "I ended up doing photo lab work, mostly printing. I enjoy photography, and it incorporates a lot of elements I'm interested in like composition and light."
It was through her current job as a production manager at Kip May Photography that Amy first came in contact with Habitat. She and her employer, Kip, routinely donate their time and talents. "We photograph the Women Build every year," she says. "It's one of the things I look forward to. There's such a great energy." Amy is also responsible for the soulful homeowner portraits featured in Habitat's annual report.
In spring 2016, Amy will move from behind the camera to being its focus. As a Women Build recipient herself, she will work alongside female volunteers to build her own two-bedroom home in the Trail View neighborhood. "I'm on the side closest to the B-Line," she says with glee. "I've been trying to get a home in Bloomington for several years. I got exactly what I want. When Habitat made the lot offer, I thought I was going to cry. It was too perfect."
Amy will be leaving behind a less-than-perfect situation in Spencer, where she grew up: "I live in a trailer in really awful conditions. It's literally falling apart." She welcomes a new start with new neighbors, many of whom she already knows. She has either photographed them or worked with them at builds or ReStore.
"Habitat is such a unique program," she reflects. "Our society needs neighbors helping neighbors. Within Habitat, that sense of community really happens. I love everyone I've met!"