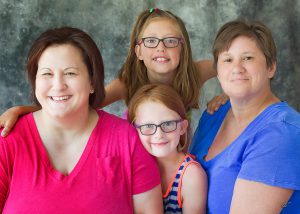 Visit this pair with heart—Kim Herbin and Jody Secrest—and you begin to understand what it means to reach beyond yourself and commit to others. The couple is quick to provide support for strangers and family alike. Now Habitat for Humanity is helping them and their daughters purchase a home while Jody recovers from a stroke and cancer.
Jody and Kim will soon celebrate a decade together. When they met, both worked at Stonebelt serving people with developmental disabilities. Jody was a lifelong resident of Greene County. Kim grew up in and returned to Bloomington after traveling as a military spouse, raising two daughters, and divorcing. Today Kim spends her work time with Elder's Journey Home Care and her free time with Habitat's ReStore, where she chips away at her service commitment.
It was in 2008 that Kim awoke to an unresponsive Jody, who had suffered a stroke during the night. Soon after doctors discovered and removed a fast growing tumor on Jody's neck. The stroke and surgery left Jody needing long-term therapy and special accommodations. She has dealt with other ailments as well, but not alone. The couple faces these challenges together.
And how did they learn about Habitat? Their favorite activities were antiquing and shopping at thrift stores, so ReStore was a routine stop. When they needed accessible housing that wouldn't cost half their income, they turned to Habitat. Jody says, "Our mortgage payment with Habitat will be less than we pay for utilities where we live now."
Kim and Jody credit Habitat staff for accommodating their unique needs. For Jody, "It will be perfect!" She'll appreciate "the wide doors and hallways that accommodate a wheelchair." For the girls, the home is new and safe—a place in town where they can ride their bikes and be closer to friends and school activities. For Kim, this will be the first home she has owned. "We are especially thrilled about moving closer to school and work!  No more long commutes!!"
———————————————————————————————
Habitat builds strength, stability, self-reliance and shelter.