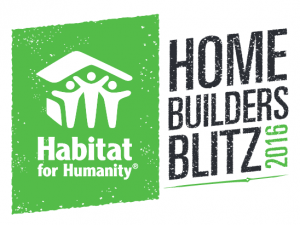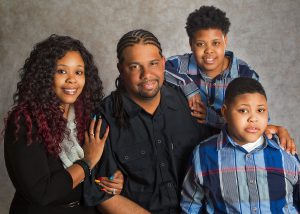 The little things are infinitely the most important.
—Sir Arthur Conan Doyle
This saying could not be truer for Isaiah and Tyrenia Newsome.
Isaiah, whose Habitat home will be part of the summer Builders' Blitz, says he is most excited about "having something that's actually mine, that I'm paying for, that belongs to me."
Originally from South Bend, Isaiah and Tyrenia live with their sons—Lawrence, 12, and Ty'Rell, 9—in an overpriced and cramped apartment. They moved to Bloomington for the excellent school system, which better accommodates Ty'Rell's autism.
"The youngest is going to be able to go outside and enjoy his front yard," continues Isaiah. "The oldest is going to like … [having] more freedom than being in the apartment complex." One of Lawrence's football teammates is also having a home built in the Trail View neighborhood, and he is very excited about walking to school with him. Oh, the little things…
As part of their home buying process, the Newsomes must complete classes ranging from money management to insurance 101. "We're getting a lot out of the experience," says Tyrenia. "I haven't found a class that I don't like!"
The couple is incredibly thankful for all the volunteers and donors who have helped to make their dream a reality. Despite Isaiah's expertise in construction, he insists, "Experience isn't the top priority. It's the willingness to be out there and help." And it is this little thing—their willingness—that has made all the difference for the Newsome family.
Sponsored by the following Signature Builders: