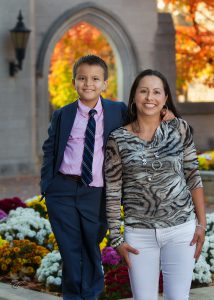 Pull yourself up by your own bootstraps.
—a nineteenth century American idiom meaning to better yourself by your own efforts
Acapulco native Noemi Urbano is where she is today because of her overwhelming determination and will to succeed.
Noemi's story begins in Chattanooga, Tennessee. After the birth of her son, Leo, she struggled to buy diapers. Charity and part-time work enabled her to care for Leo until he turned six months, but she eventually sent him to Mexico to live temporarily with his grandmother.
Noemi later settled in Bloomington in a small apartment. She worked two jobs: one in housekeeping and another in food services. She didn't see Leo again until he turned five years, at which point she was able to save enough money to bring him back to the United States. "I'll never, ever, ever send him back," she says.
Jump ahead to today, and Leo is now eight years old. Noemi has a permanent home in Habitat's Trail View neighborhood firmly in sight for the pair come spring. She learned about Habitat's program from coworkers about five years ago, and she has been working and saving steadily toward her goal since then. "I like the idea of a neighborhood of friends," she explains. "And I want Leo to be able to continue to live in the same home—his home—when he's grown." In her culture, several generations of a family often live together and support one another.
Noemi has finished her required Habitat classes and is focused on completing her service hours. "I especially liked the classes on managing money and on gardening," she says. When she can, Naomi likes running, as well as working extra hours at ReStore and at her own build site. In any remaining free time, she shares experiences with her "best friend," Leo.