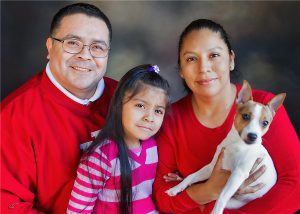 Gerardo and Benardina are very excited to soon become homeowners. Gerardo works as a cook at Cracker Barrel, while Benardina is a happy stay home mother. Both dreamed of having their own house, where they could have their own space to start creating a family. Even though they heard of Habitat through friends and family, it wasn't until they had their daughter Rozlyn, now 5 years old, that they decided to apply to the program. "We decided that we wanted to be able to give something to her in the future. Besides, we want her to have a stable life in a place she can call her own".
They both love working with Habitat, not only because they are learning how to build a home, but they have seen how important it is to be kind toward other people. "We see every day how Habitat teaches all of us how to be good neighbors and good people. We also learn skills such as managing our money that helps us move forward".
And that core value of solidarity with the community that makes Habitat so special, is what kept Gerardo and Benardina motivated to continue. It didn't matter how rainy or hot the day was, their enthusiasm never faded. Being able to learn from the Habitat staff and work with Habitat volunteers made it all worth it.
Gerardo and Benardina would like to thank God for putting Habitat in their path, and for the blessing of having their own house soon. "Habitat is a good school that teaches us how to build our future and our community. Everybody should apply. Don't think it is too much and just apply. It will be the best decision you've ever made for your future and the future of your loved ones".