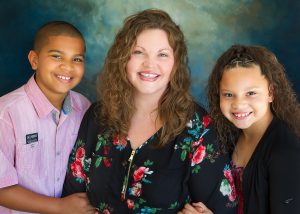 "Strength doesn't come from what you can do. It comes from overcoming the things you once thought you couldn't." – Rikki Rogers
Stefanie Rose is no stranger to being strong in the face of adversity.
Raised and living in Hartsville, Indiana Stefanie was initially called to Bloomington in 2004 to help care for her mom who was diagnosed with kidney failure and receiving a transplant. Once her mom was stabilized, she moved briefly to Florida but came back in 2007 and has lived in Bloomington ever since. She now has two children, Arianna (age eight) and Trey (age nine).
Having kids, says Stefanie, gave her life focus, pushing her to go to college and obtain her associates degree in accounting. "They have been my motivating factor to be strong and work hard to better my life, all of our lives," she said. "I want them to feel permanency."
Trey loves "everything sports," being outside and being active, while Arianna is the family "entertainer" and loves to perform whether it be gymnastics, dancing or singing. They both have always wanted a garden, and Stefanie has always wanted a place where they can play outside safely. She is excited for the kids to have their own bedrooms and for them to be able to create spaces to match their different personalities.
She originally learned about Habitat at the annual More Than Houses breakfast event where she was invited as a table guest. "I remember sitting there and being surrounded by all these people who were called to support the mission of Habitat." She continues, "I heard a homeowner speak, and I realized that could be me—that there were so many parallels in our stories and in our struggles. I applied quickly after that—Habitat was one of the first places to come from a place of 'yes'."
One of her most memorable experiences with Habitat so far was being able to be a part of Mindy Sanders' Women Build team this past spring and help build two homes for her fellow Habitat homeowners. She felt empowered by all the women on site and was able to step out of her comfort zone to learn how to use a power saw. "I still have that first piece of wood I cut," she said. "I'll always keep it and plan to find a place to display it in my home."
She is thankful for her current living situation and an open-minded landlord who gave she and her children a chance when many wouldn't even talk to her. "There is such a stigma in this community around people who are on 'Section 8' or who need public assistance," she recalls. "It took me a really long time and a lot of rejection to find our current place.  I'm just so grateful to never have to deal with the anxiety of going through that process ever again."
Her next big goal after closing on her home—complete self-sufficiency and independence.
"I want to show my kids that you always have another day to get it right," she tells us. "You can wake up and work hard and opportunity is always there to do better or be better."
—
The Rose home is sponsored by the Whirlpool Corporation and the IU Kelley School of Business.