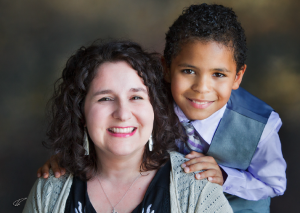 The idea of having her own home has special meaning for Kelly Saunders—because her father died homeless.
Kelly has seen some challenging times herself, but she feels she's turned her life around. "Eight years ago I walked into a church in my hometown and gave my life to Christ," she says. Later, she moved to Bloomington, where she found a good job in two weeks—working at Cook Medical. She worked for about two years in production, and then she moved into accounts payable, where she has been for the past five years. "I found hope in Bloomington," she says, "and a job where I feel secure. Cook is an amazing company."
Kelly learned about Habitat through friends of her son, Samson. A fifth grader at Fairview Elementary School, Samson goes to the afterschool program sponsored by Banneker Community Center and participates in the chess club at Crestmont. Club sponsor Michael May and his wife Ann St. John are great friends and supporters of Habitat, and when they learned that Kelly and Samson were having major issues with their apartment, they suggested that Kelly apply for a Habitat house.
"I was really excited to learn last October that Samson and I would have the opportunity to be offered one of the paired homes in the Trail View Neighborhood," says Kelly. Samson is happy that he'll be living in a neighborhood with families and kids. Kelly also has two adult children living on their own—24-year-old Karra, who just graduated from IU, and 19-year old Lyph, who works at Cook.
In addition to building a new home through Habitat, Kelly and Samson have other good things happening in their lives. As an honor roll student at Fairview, Samson was eligible for a drawing for a new bike this spring, and he won. He also recently learned that he's been selected for a scholarship to study violin in a children's program at the IU Jacobs School of Music.
And Kelly is going to be part of a mission trip to Africa with her church for 10 days this summer. The group will work to improve conditions at an orphanage for abandoned children with HIV in Kenya. To earn money to go on the mission trip, she used her artistic talent, drawing portraits of people and animals.
Kelly has had many good experiences with Habitat already. "Habitat is about building relationships—and friendships," she says. She especially enjoys the financial management and budget classes offered by Habitat and taught by Ann St. John. "It's really helpful to do the budget sheets, so you can see where your money goes," she says. Kelly also has a budget partner through Habitat who advises her, and she has learned much from the program.
After taking a tour of IVY Tech sponsored by Habitat for new and future homeowners, she thinks she'd like to go back to school to earn an accounting degree. "Just when you think you can't do something, it seems that the obstacles are removed," she says.
Kelly has a favorite scripture, Jeremiah 29:11, that comforts and guides her: "For I know the plans I have for you," declares the Lord, "plans to prosper you and not to harm you, plans to give you hope and a future." "That scripture has been with me throughout the Habitat experience," she says. "I feel so blessed."
The Saunders Family home is sponsored by The Hegarty Family.