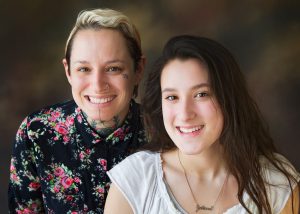 Planting family roots has always been important to Corinne Serini.
In fact, it was foremost in her mind when she and her daughter Juliana left New York City nine years ago and headed to Bloomington seeking a more affordable and "greener" place to call home. "We were looking for someplace more inexpensive than the city and someplace closer to nature where we could spend more time outdoors. We found our way to Bloomington."
Corinne, a barber here in Bloomington, quickly learned that while cheaper than New York City, the housing situation in Bloomington had its own challenges in terms of cost and quality. They are leaving behind a less than ideal living situation and have struggled with poor heating conditions and skyrocketing utility bills.
She was originally drawn to Habitat because, "I have always liked the idea of direct action in the community—doing something to directly help others. I have also wanted to buy a home for a long time so Habitat was the perfect fit." She has been enjoying the homeownership preparation classes and building friendships with her new, soon-to-be neighbors.
Corinne and Juliana's home will be part of the Trail View neighborhood which aligns well with their love of being outside together and will be perfect for walking their dogs. She has always been interested in the construction trade and is excited to begin participating in physically building her own home. "I am eager to paint and move-in and all of that of course, but I am most excited to learn how to actually build a house."
The Women Build Kick-Off event in February is one of Corinne's favorite memories of her experience so far. "It was amazing to see so many kind people come together to support my family," she shared.
"I have been looking for a caring, supportive community since Juliana and I have arrived in Bloomington," Corinne reflects. "It looks like I have finally found one. It is finally starting to set in that I am going to build and own a home—dreams do come true!"
The Serini home is sponsored by: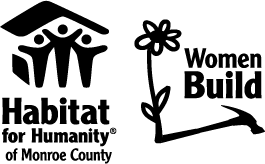 Beginning in 2001, the women of Bloomington and Monroe County joined together to build homes partnership with families in need. The Women Build homes are built in just over a week, and all volunteers are women. Teams of friends, colleagues, and those who just want to make a difference assemble to sponsor each day of the build. Each builder commits to giving or raising a minimum of $250 to assist in sponsoring the home (purchasing land and building materials).