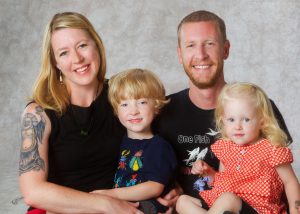 Time. "It's the only thing in life you can never get back," says Jennifer Helstrom. "So we're trying to make the most of the time we have." Habitat for Humanity is helping Jennifer and Brad Williams and their two children, Powers (age 5) and Cadence (age 3), do just that.
Together for 14 years, Jennifer and Brad met in Bloomington in 2002 where she had been in school at IU. At the time, Brad was a musician and touring as the drummer in rock bands around the U.S. and in the U.K., which he continued until just after Powers was born. They have struggled through living in apartments around Bloomington that were not well maintained, and in their current rented modular house in Prospect Hill where they had hoped for a family-oriented environment with kids the same age and more interaction with neighbors. So when a neighbor who was a Women Build volunteer talked to them about Habitat in 2015, they were hooked!
Steps to Habitat began in August 2015 and got serious that October when their application was accepted. Their build started August 27, 2016, with insulating the basement at 909 Moravec Way in the Trail View neighborhood, just about a year after their initial application. Despite working full time at Hoosier Hills Food Bank to support the family, Brad has finished his Habitat classroom work in record time and is moving steadily toward fulfilling his volunteer requirement. The same is true for Jennifer, who cares for their home and kids and creates unique knitted craft items she hopes to sell someday. She especially credits a Habitat class, "Women of Voice," for helping her learn about running a neighborhood and managing meetings that she hopes to put to good use in Trail View.
Brad and Jennifer particularly credit Don Hollinger, their budget partner, who helped them navigate through the financial process. What at first looked like a major roadblock because they had not established a credit record – they do not have credit cards and pay cash for everything – quickly became a benefit to their application. As they said, "we each have our own checking account rather than having just one, because it keeps us from overspending. When we shop separately, we know exactly how much we can spend. Folks at Habitat were impressed by that."
"What's so special about the Trail View site where we'll live is the unique opportunity to build a whole community along with our neighbors. That almost doesn't exist anymore," says Jennifer. "It reminds me of the neighborhood where I grew up in Ft. Wayne. Everyone knew each other, wanted the same things and felt safe. You could count on your neighbors when you needed them. That's what Brad and I want for our family, and we're already experiencing it in Trail View. Habitat is making it happen for us!"
---
The Williams-Helstrom Family's House is sponsored by