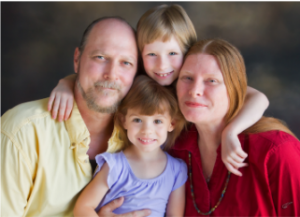 When life gives you lemons, make lemonade.
— Elbert Hubbard, 1915
When you visit with Jeff and Carla Wyatt, you realize Habitat for Humanity is helping them learn to make lemonade. The Wyatts, whose Whirlpool-sponsored Habitat build begins September 21, will finally have the "clean, safe home" they've only dreamed of for their second
family.
Just when other couples their age were looking forward to an empty nest, the Wyatts became parental figures again about three years ago, this time as permanent custodians of their granddaughters Keelahlah (seven years) and Kyla (three years). "It's not easy," Carla says, "but we feel so blessed to be able to offer our grandkids a healthy place to live and play, full tummies, and lots of love that they can count on every day. Habitat is a huge part of that." After a tough start in their young lives, the two little girls now clearly accept Carla and Jeff as their parental figures.
There's also a sense of serendipity working in Jeff and Carla's lives. After a chance meeting 20 years earlier, the Wyatts reconnected 15 years ago when they both took jobs at the same company. They married three years later. And after Keelahlah and Kyla settled in with them, Jeff and Carla knew their small, 506-square-foot apartment in Bloomington just wouldn't do. It was in poor repair, drafty, and cramped with no safe space for the girls to play. So they began looking for another way—and settled upon The Habitat Way.
"When I got home from work one day, Carla told me we're going to a Habitat information meeting," Jeff said. That was in December 2015. They completed paperwork immediately; were selected as a Habitat partner family in January 2016; started on their required service hours and home ownership education; and expect to move into their new 1,000-plus, square-foot home in December 2016. That's only about 12 months from start to finish—a very short time compared to most Habitat families. Jeff and Carla make Habitat a priority—it's their "fun time"— and they devote every available hour to making homeownership happen.
"We're so grateful to everyone we've met through Habitat—especially the teachers in our homeownership classes—as well as friends we've made from builds and while working at the ReStore," the Wyatts said. They enjoy tremendous support from the pastor and community at St. Mark's United Methodist Church, where Jeff works. When asked to sum up their Habitat experience and what they're looking forward to, Keelahlah spoke up for the family: "We'll have a nice yard to play in, and I'll get my own room where I can read Frozen whenever I want!" And from a bright-eyed seven-year-old, that truly says it all!
The Wyatt Family home is sponsored by: