On November 8, the Monroe County Commissioners signed a letter of intent with Habitat to transfer ownership / development control of 84 county-owned acres.
Darryl Neher shared, "We have pockets where we can build out housing of all types. Habitat houses, tiny homes, container homes, paired housing, multi-family housing. And this is the dream, a truly integrated multi-income neighborhood of affordability that gets people out of homelessness, and giving them a ladder to climb into their stable family home."
According to Monroe County Commissioner Julie Thomas, "We see this as an opportunity for a true community partnership and the chance to create something innovative and bold. The idea is unlike we have ever seen here, and that makes the project truly a great one."
"This property was going to be a jail," Neher said. "No more. This is going to house families."
Read more about the announcement in The Herald-Times HERE.
Read the editorial on the proposal titled 'Habitat's use of county land makes sense' in The Herald-Times HERE.
Coverage by Fox59 can be found HERE.
A story by rtv6 and Derrik Thomas can be viewed HERE.
WTIU and wfiu shared the news HERE.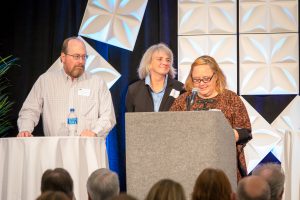 For additional comment please call the Habitat for Humanity of Monroe County office at:  812-331-4069.