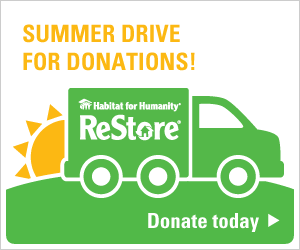 BLOOMINGTON, IN. (7/3/16) — Monroe County residents can support the store that helps build homes by donating to Habitat for Humanity of Monroe County ReStore's Summer Drive for Donations.
With free and convenient pick-up service, residents can easily donate new and gently used household items, appliances, building materials, furniture, lighting fixtures and cabinets. Donated items will then be available for purchase at a fraction of the retail price at the Habitat ReStore, which is open to the general public at 850 S. Auto Mall Rd in Bloomington. Revenue generated from sales at the Habitat ReStore are used to help build Habitat for Humanity homes in partnership with low-income families.
"Every item donated to Habitat for Humanity of Monroe County ReStore helps to improve the lives of families in need of better shelter," said Marc Papier, ReStore Manager. "This year alone, proceeds from our Habitat ReStore will cover 100% of the costs of two new homes in Monroe County." 
Habitat for Humanity of Monroe County ReStore relies heavily on the generosity of donors, and all donations made through the Summer Drive for Donations event are tax deductible. For information about how to schedule a donation pick-up, visit btownrestore.org. Donations can also be dropped off at the store during business hours: Tuesday-Friday 10:30am-5:30pm and Saturday 9:30am-4:30pm.
About Habitat for Humanity ReStore
Habitat for Humanity ReStores are nonprofit home improvement stores and donation centers that sell new and gently used building materials, appliances, furniture and home accessories at a fraction of the retail price. Last year alone, Habitat ReStores raised more than $100 million for homebuilding while diverting more than 128,000 tons of reusable materials from landfills. With more than 920 stores in five countries, proceeds generated by Habitat ReStores are used to help build homes and communities locally and around the world. To shop, donate or volunteer, visit btownrestore.org