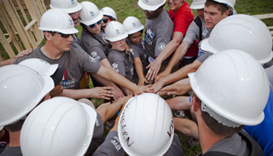 Habitat for Humanity of Monroe County is committed to being an equal opportunity employer. Our organization's policy is to offer equal opportunity to all qualified employees and applicants for employment without regard to race, color, religion, national origin, sex, age, veteran status, disability or other category protected by law. This policy is applicable to recruitment, hiring, rates of pay, job assignments, promotion, training, discipline and all other terms and conditions of employment.
Controller
Our vision is a world where everyone has a decent place to live. We are seeking a Controller to join our dynamic team.
What makes the Controller role at Habitat different is that she/he has the opportunity to see the tangible impact of their work in the Bloomington community around them. They work alongside a talented team of nationally recognized leaders who are each committed to a mission that has their hearts. The Controller on our Habitat team participates in the transformation of the families that we partner with, as they take the final steps out of poverty. Our affiliate builds community one home at a time.
This trusted professional is given space to personally develop the systems and teams of passionate people needed to ensure the strategic use of the funds entrusted to us. Their work directly impacts every aspect of our critical mission.
We of course offer a competitive compensation package including major medical, dental, & life insurance, 401k, paid vacations, and holidays. But, more than that, a spot on our team means that you know your work is making a difference in the lives of your neighbors.
If you are looking for an opportunity to translate your passion to a cause with significant and lasting impact in the Bloomington community, send your cover letter and resume to theodore@monroecountyhabitat.org for consideration.
Click HERE to read additional details on the Controller opportunity.
Habitat ReStore Receiving Specialist
The Receiving Specialist will shape the ReStore experience by providing a consistently top-tier customer service experience. This individual will report to, and work closely with the Operations Coordinator to carry out the daily truck pickup schedule and represent Habitat for Humanity of Monroe County in the community. They will also work closely with the Receiving Team Leader, other Receiving Specialists and volunteers to safely load and unload vehicles during pick-ups and drop-offs and carry out the back-room to sales floor workflow to safely, quickly and effectively merchandise new items on the sales floor.
Click HERE to read additional details on the Receiving Specialist opportunity.
To apply email your cover letter and resume to restore@monroecountyhabitat.org.
Chief Executive Officer
Are you interested in working for an organization that is a leading provider of housing that is grounded in servant leadership?
Do you want to make a difference for individuals that are willing to help themselves but struggle to get started?
Are you interested in working with a high performing team of staff, board members, and volunteers?
Do you have experience networking and fundraising with multiple venues and backgrounds?
The successful candidate will be responsible for:
Our dynamic organization is in its 29th year serving families and building community both locally and abroad. In addition to building homes—current construction is underway on our 180th house—we also provide educational programs that help end the cycle of poverty. HFHMC has been named an Affiliate of Distinction by Habitat for Humanity International for the sixth consecutive year, a distinction awarded to only the top 1% of affiliates nationwide. The Monroe County affiliate of Habitat has more than 3,000 volunteers and 5,000 donors annually, incredible impact for an organization of our size.
Partnering with a high functioning leadership team, the Chief Executive Officer is responsible for stewarding the vision and strategic implementation of HFHMC's mission. She/he will share our vision of a world where everyone has a decent place to live and our passion for eliminating poverty housing by providing opportunities for the entire community to share their gifts.
Our next leader is experienced in setting strategic financial direction, is a fearless critical thinker, possesses business acumen, and is a superior communicator. She/he is unflappable in a fast paced environment and values a continuous learning culture.
Successful candidates will be responsible for carrying out:
Our mission:  Seeking to put God's love into action, Habitat for Humanity brings people together to build homes, communities and hope.
Our vision:  A world where everyone has a decent place to live.
Our principles:
Demonstrate the love of Jesus Christ.
Focus on shelter.
Advocate for affordable housing.
Promote dignity and hope.
Support sustainable and transformative development.
Who we are:
Habitat for Humanity partners with people in your community, and all over the world, to help them build or improve a place they can call home. Habitat homeowners help build their own homes alongside volunteers and pay an affordable mortgage. With your support, Habitat homeowners achieve the strength, stability and independence they need to build a better life for themselves and for their families. Through our 2020 Strategic Plan, Habitat for Humanity will serve more people than ever before through decent and affordable housing.
Non-proselytizing policy:
Habitat for Humanity and its affiliate organizations will not proselytize. Nor will Habitat work with entities or individuals who insist on proselytizing as part of their work with Habitat. This means that Habitat will not offer assistance on the expressed or implied condition that people must adhere to or convert to a particular faith or listen and respond to messaging designed to induce conversion to a particular faith.
Qualifications for the position include:
To be qualified for the position, candidates must have a four year degree and five years minimum experience in a strategic leadership and coaching role as well as demonstrated experience with fundraising in multiple venues. To apply, please submit your resume and cover letter to careers@monroecountyhabitat.org.
Company Description:
In Monroe County, Indiana, where 1 in 5 people are living in poverty, unaffordable housing holds our community back from being a place that families can call "Home."
Habitat for Humanity of Monroe County's mission is to eliminate poverty housing by building simple, decent, affordable homes in partnership with qualifying families. Habitat homeowners pay interest-free, no-profit mortgages, which are used to build more Habitat houses. Because houses are principally built with volunteer labor, mortgage payments are affordable for low-income partners.
Habitat qualifying families are selected based on their need for housing, ability to repay the no-interest mortgage and willingness to partner with Habitat by earning 250 hours of "sweat equity" or volunteer time. Through the work of thousands of volunteers and partner organizations, Habitat does more than build homes. We build community.
Click HERE to read additional details on the CEO opportunity.