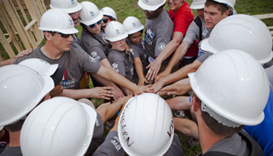 Habitat for Humanity of Monroe County is committed to being an equal opportunity employer. Our organization's policy is to offer equal opportunity to all qualified employees and applicants for employment without regard to race, color, religion, national origin, sex, age, veteran status, disability or other category protected by law. This policy is applicable to recruitment, hiring, rates of pay, job assignments, promotion, training, discipline and all other terms and conditions of employment.
---
Development Director (full-time)
The Development Director will cultivate an opportunity for everyone, both donors and volunteers, who is interested in supporting and engaging with Habitat for Humanity of Monroe County to contribute their unique gifts. This person will develop and implement comprehensive fund development plans, maintain donor and volunteer interest and lead the HFHMC team in cultivation of key relationships with partners. The director reports directly to the CEO and is a full-time, salaried, exempt position working a minimum of 40 hours per week (and occasional nights and weekends). Read the full position description for more details.
To apply for the position, send your resume and cover letter (both must be submitted for consideration) to our office at: careers@monroecountyhabitat.org. As part of your application we request that you fill out the affirmative action voluntary information form and submit with your application materials.