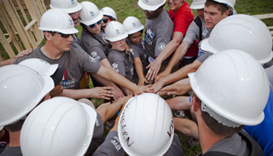 Habitat for Humanity of Monroe County is committed to being an equal opportunity employer. Our organization's policy is to offer equal opportunity to all qualified employees and applicants for employment without regard to race, color, religion, national origin, sex, age, veteran status, disability or other category protected by law. This policy is applicable to recruitment, hiring, rates of pay, job assignments, promotion, training, discipline and all other terms and conditions of employment.
---
ReStore Donations Ambassador (part-time)
Primary responsibilities include greeting donors at ReStore, accepting/unloading donations, processing donations through the warehouse and onto the showroom floor, assisting customers with loading purchases and training/directing volunteers. The successful candidate may also assist the truck drivers, cashiers, and sales associates as needed. This position requires that you be able to lift up to 50lbs. routinely, and pass a background check. Experience in excellent customer service, and managing volunteers is desirable. A friendly, upbeat personality is a big plus!
To apply for the position send your resume and cover letter to our ReStore Manager, Meagan Mabrey at:  mabrey@monroecountyhabitat.org
For more details on the position click HERE.