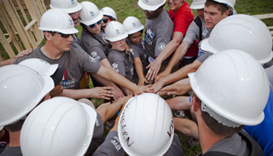 Habitat for Humanity of Monroe County is committed to being an equal opportunity employer. Our organization's policy is to offer equal opportunity to all qualified employees and applicants for employment without regard to race, color, religion, national origin, sex, age, veteran status, disability or other category protected by law. This policy is applicable to recruitment, hiring, rates of pay, job assignments, promotion, training, discipline and all other terms and conditions of employment.
---
Habitat ReStore Manager
Habitat for Humanity of Monroe County's vision has always been the same:  a world where everyone has a decent place to live.  We are hiring a Habitat ReStore Manager to join our vibrant and effective team.  The ReStore offers a dynamic and ever evolving environment.
The ReStore Manager at Habitat is not your typical store manager.  She/he has the opportunity to see the tangible positive impact of their team's work in the Bloomington community.  They work alongside a talented team of nationally recognized leaders who are each committed to a mission that has their hearts. The ReStore Manager participates in the transformation of the families that we partner with, as they take the final steps out of poverty.  Our affiliate builds community one home at a time.  During the last fiscal year, the ReStore fully sponsored two Habitat families' new homes.
The trusted professional that will fill our Habitat ReStore Manager role will develop, implement, and advance a strategic plan for the ReStore team that focuses on maximizing profits for the benefit of Habitat; challenging, inspiring and supervising the ReStore staff team; securing donations and community connections; and implementing customer service and operations policies.
We offer a competitive compensation package including major medical, dental, & life insurance, 401k, paid vacation time, and holidays. But, even more than that, a spot on our team means that you know your work is making a difference in the lives of your neighbors.
If you are looking for an opportunity to translate your skills and passion to a cause with significant and lasting impact in the Bloomington community, send your cover letter and resume to Jennifer at:  habitat@monroecountyhabitat.org for consideration.
For more details on this opportunity read the position description HERE.