Habitat's Current Neighborhood Project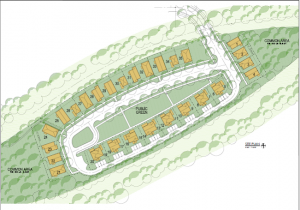 In 2010, Habitat acquired the land for Trail View from a private owner. This neighborhood community lies to the south of the intersection of Diamond Street and West Cottage Grove Avenue, between the B-Line Trail and rail line. It sits within a Residential Core area of the city of Bloomington where residents will have an easy walk to schools, parks, and all the amenities of Downtown Bloomington. Trail View will consist of single-family and paired homes to 35 families with a common green space within the community. To the east and west of the neighborhood, there will be undisturbed, preserved woods. The homes will not be seen directly from the B-line trail due to the steep rock on the north side of the trail and tree cover between both the B-line trail and the neighborhood and the railroad tracks and the neighborhood. The first two houses in the neighborhood were completed during Women Build 2015.
Trail View will not only create much needed housing for working families, but also enhance Bloomington with stable, permanent homeowners in the city core. Habitat homeowners all pay interest-free mortgages for their homes. They do not receive them for free – the homes are repaid. All costs are passed on to the homeowners. Homes and lots are sized and designed to maintain affordability so the homeowners can be successful. Habitat's track record of homeowner success is strong, with a foreclosure rate well below the national average.