Our Humans of Habitat features are stories of a person (or two or three!) who are a part of our Habitat family.
Read on to learn more about our amazing community of supporters!
---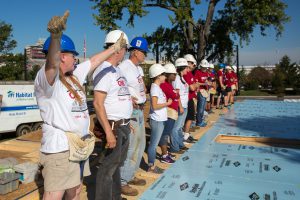 Jeff Wyatt and his wife Carla purchased their home from Habitat in order to give their two granddaughters a new life. The Wyatt's home was built during our Whirlpool USA sponsored blitz build in 2016 on the Indiana University campus. 400 volunteers pitched in to help with construction on the house.
"Habitat for Humanity builds futures," said IU Bloomington Provost and Executive Vice President Lauren Robel. "When our students hammer nails and hang sheetrock alongside the hardworking family who will buy and live in that home, they receive as much as they give."
Jeff summed up the blitz build experience best: "The last 10 days have been like a party – but one where your house looks better at the end."
---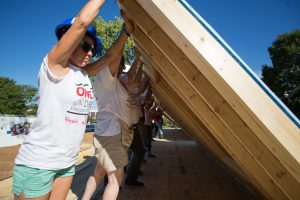 Andrea Warner is one of our full-time construction site supervisors at Habitat for Humanity of Monroe County. She has a background in both construction and nonprofit management. Andrea just celebrated her one year employment anniversary with Habitat. When talking about the past year she calls it the, "Best year of my life! I love everyone I work with and have been able to meet through this mission!"
Andrea most especially enjoys the college student volunteers, the crew leaders, and the future homeowners she gets to interact with on site. She also appreciates the builders around the community who are a part of Habitat's work including: Loren Wood Builders, LLC; Bailey & Weiler Design/Build; and Rubicon Custom Homes.
"I have the best job in the world," says Warner. "Being able to make such an important impact in the community each day is the best. I can't wait to see what the next year brings!"
---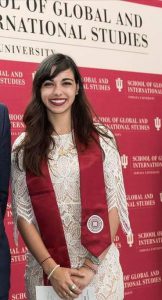 Claudia Viloria Giraldo started volunteering for Habitat when she was a sophomore at Bloomington High School North. She began volunteering on construction sites as part of BHSN Habitat for Humanity, but quickly began serving as translator and interpreter for Hispanic families. One of the reasons Claudia felt so drawn to Habitat was the sense of community it brought to all of the students volunteering. "Waking up at 7am on a Saturday and working in freezing conditions was actually fun; we would do it because we are all together. And, at the end of the day, working side by side with the partner families was very rewarding."
"I translate because it is the tool I have to help others. I love to interpret it because I know how hard it is to communicate with others when you don't know the language. I am an immigrant myself, and I'm doing what I would like others to do for my family."
Claudia graduated from Indiana University in 2016 with an International Studies and Psychology degree, and will be moving to Mexico at the end of the summer to pursue graduate studies  in International Relations at UNAM Universidad Nacional Autónoma de México.
We will miss Claudia and wish her all the best! She will always be a part of our Habitat family!
---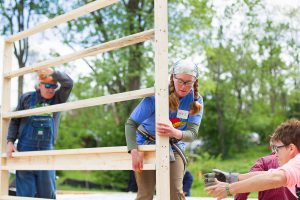 Herb Ault works at Area 10 Agency on Aging routing buses for Rural Transit. Chris Myers is Herb's boss. Chris joined Herb on the Women Build site last week– along with other of Herb's colleagues– to help build the Ault family's future home.
Says Chris, "Herb thrives in chaos and is a natural problem solver. We laugh all the time!"
Says Herb of his experience over the past year and the Women Build volunteers who have sponsored his home, "I don't know why everything I've tried with Habitat has been so much fun. It's probably because everyone is here for the right reasons. Whatever your reasons for being here, they are the right ones."
---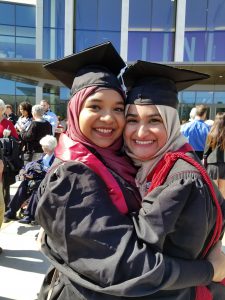 Two of our most beloved Indiana University student supporters just graduated. Maria and Israt Khan have been a part of Habitat for Humanity of Monroe County, IN for the past three years as mid-week crew members, IU Habitat for Humanity members, and supporters of our CommUNITY Interfaith BUILD through their membership in the IU Muslim Student Association – MSA and IU's Interfaith Coalition.
In a beautiful letter the two women delivered to our office this spring they shared, "When we started planning out our class schedule to fit in weekly volunteering we knew only the essence of what Habitat does. There are lots of organizations in this city vying for student involvement…we chose Habitat because of the people. The people who taught us passion and commitment, positivity and selflessness. The people who would patiently work through our failures and eagerly make us feel like a star for small triumphs. The people who brought so much sunshine you forgot about that upcoming exam for a second…the people who bring an entire community together. Working on the build site, in the office, and at fundraising events has brought us SO much joy. Thank you for everything, Bloomington Habitat."
Thank YOU, Israt and Maria!
---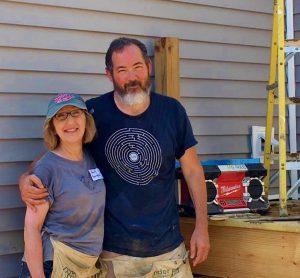 Brian and Pearl Springfield remember their first day at a Habitat build. "We honesty had no idea what to expect." After standing in a circle hearing heartfelt gratitude from future homeowners and feeling the great sense of family from both Habitat staff and volunteers, "We quickly knew we were in the right place to make a difference."
Brian and Pearl are semi-retired newcomers to Bloomington. Since that first day volunteering, they've participated in more Habitat builds and are active members of the Habitat Task Force at Unitarian Universalist Church of Bloomington. Pearl also regularly volunteers at the Habitat office. "It's been great to become involved in Habitat from different perspectives. Seeing how the Bloomington community collaborates to build a better life for those in need, both literally and figuratively, has been very rewarding."
While that first day of volunteering came with rain, mud, sweltering heat, and the challenge of deciphering the math behind siding a home, the good outweighed the challenges. "We moved here to make a better life for ourselves, and love knowing through Habitat we've helped to make a better life for others, too."
---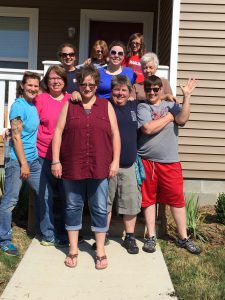 One conversation with Kim Herbin and Jody Secrest will help you understand what it means to reach beyond yourself. Jody and Kim are quick to offer support for strangers and family alike. Now Habitat for Humanity is helping their family purchase a home while Jody recovers from serious illness which makes accessible housing a blessing.
The family turned to Habitat for the solution. Jody says, "Our mortgage payment with Habitat will be less than we pay for utilities where we live now. And no more long commutes!"
Jody and Kim learned about Habitat by shopping at ReStore; antiquing and searching for thrift store treasures are favorite activities. The family credits Habitat for accommodating their unique needs. For Jody, "It will be perfect!" She'll appreciate, "The wide doors and hallways that allow a wheelchair." And, with assistance from Caregiver Homes, their new home received some much needed landscaping and painting in preparation for move-in.
---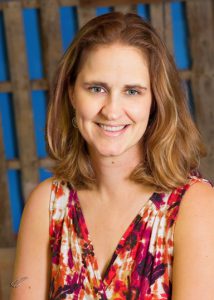 As Poverty Elimination Director, Rebecca Mankowski provides future Habitat home owners with solutions helping them move up the economic ladder, contribute to the community, and say goodbye to poverty once and for all. She says, "We do that by building a home, but the home is only part of the solution."
Rebecca and her team prepare future home owners for financial security through Habitat's money management program, help families learn about educational pathways for their children's future, and prepare home buyers to be successful members of their new neighborhood.
Mankowski has been with Monroe County Habitat for 16 years. She's worked in every aspect of the organization, eventually focusing on family services. "We're always growing and evolving, so the job is always changing. That keeps it exciting."
Rebecca loves regularly seeing families in the community, watching them blossom in their Habitat homes and secure lives. "It's great seeing our home owners on the street or in the grocery store, years after they built their house. You get to see the positive impact of what you do."
---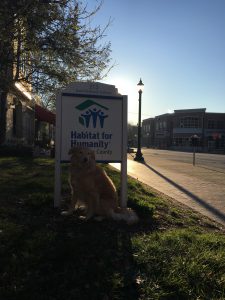 You may notice that I'm not technically a HUMAN. But I consider myself a HUMAN of HABITAT.
My name is Luna and I graduated from the Bloomington Animal Shelter 6 years ago. Since starting to work at Habitat my person and I have met some of the nicest people ON THE PLANET.
People like my ANT Jennifer. She answers the phone all day and educates people about Habitat. And my ANT Erica and UNKLE Cody. Erica works with our future homeowners, and Cody handles mortgages (I don't know what those are). He sometimes shares his lunch with me.
People like my ANT Tamera, our Executive Assistant, who brings cheese. My UNKLE Nate is sometimes scary in his bike helmet, but he finds land so we can build houses, so I guess he is OK. ANT Rebecca is our Poverty Elimination Director which sounds like a big job (she also loves chickens like me). My new friend Glenn is our Controller, but he can't control me. ANT Cindy is kind and helps all of our volunteers. ANT Lindsey and ANT Clair and ANT Céline are our interns. And ANT Elizabeth is my best friend—she is also our Director of Engagement.
Sometimes Toren and Andrea come to the office; they spend most of their days at the construction site building HOUSES. They work hard and are usually muddy. I like them almost as much as I like bacon. Going to the Habitat ReStore is the FUNnest. Going through the drop off lanes to make a donation makes me a bit nervous, but so far my person hasn't tried to give me to ReStore.
Stop by our office on Kirkwood someday to say hello! We're always happy to see you.  Woof.
---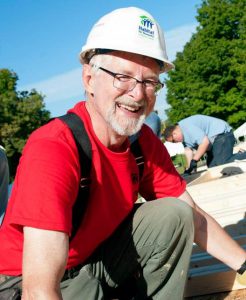 John loves working with his hands, and realizes other great benefits from supporting Habitat. "I enjoy helping others, and I got to meet new people in a town where I didn't know many people. I now count Habitat people as my great friends."
John enjoys volunteering so much that he builds both midweek and on Saturdays. Though the work can sometimes physically demanding, John finds it rewarding to accomplish something tangible. And, working with the future homeowners has its own rewards, especially during the dedication ceremonies. "To see families get the keys to their new home is a very moving experience."
Some of John's favorite moments come standing in the morning circle before each build. He especially enjoys "seeing all these people, some of whom have no idea what to do, who are all going to do their best to help others."
---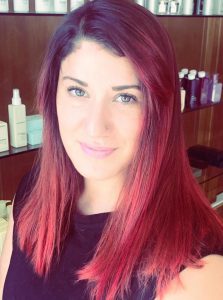 Meagan Mabrey is  our new Habitat ReStore Manager!
Meagan has been with ReStore since December of 2016. During her time as the store's Customer Service Manager, Meagan has engaged a record number of volunteers. Her favorite thing about working at Habitat ReStore is "the community that is created among donors, shoppers, volunteers, and staff. Each piece of the puzzle is equally important in making what we do at the ReStore possible. I'm blessed to be a part of such an amazing purpose."
Meagan moved to Bloomington from Bedford, IN in 2006 to attend Indiana University. She received a B.A. degree double majoring in psychology and sociology. Since that time, Meagan has worked for three non-profit organizations focusing on human and social services. Meagan is passionate about connecting with and advocating for community members, volunteers, and future homeowners. She spends her free time outdoors with her husband and three small dogs.
We are incredibly excited for Meagan to take on this role. Last year, ReStore sponsored two houses and we look forward to the store continuing to serve as one of Habitat's most steadfast sponsors of homes for deserving families. Meagan's hopes for the future of Restore include increasing awareness and partnerships between ReStore and the local community, as well as continuing to sponsor more homes.
---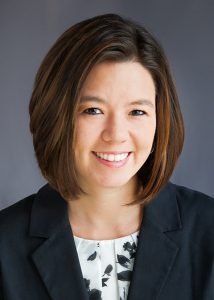 Each month for the past two years Karan Rastall has led the Habitat Family Selection Committee through the important process of selecting potential partner families. The committee's goal is selecting future homeowners that meet Habitat's three basic criteria: a need for housing, an ability to pay, and a willingness to partner. Karan ensures that the team is "looking at every application, the whole picture, so that there are no questions when that family is presented to the Board of Directors."
Karan is a Senior Loan Officer at Ruoff Home Mortgage and an Indiana University graduate with a degree in teaching. She looks at both her professional life and Habitat involvement from an educator's perspective, doing her best to help potential homeowners. "I've always tried to use my IU degree as a way to educate people. If being a homeowner is where you see yourself, I will give you as much guidance as I can."
Karan loves volunteering with Habitat because the program's applicants "don't take homeownership for granted– this is their ultimate goal. These folks do whatever they need to do to help their families, with a great sense of pride, so that their kids learn that anything truly is possible."
---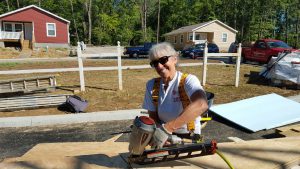 New to Bloomington, Ruthie Cohen hoped to become a part of the community. While supporting relief efforts in New Orleans after Hurricane Katrina where she enjoyed, "results I could actually see," Ruthie learned she enjoyed working with her hands. Ruthie found her way to Habitat and became a mid-week crew member.
Building Habitat homes is "a lot of work, and not part of my skill set, but I've acquired a lot of knowledge along the way, from great teachers." Ruthie's contribution to helping Habitat's mid-week crew goes beyond just hammering nails—it often includes bringing delicious food for the crew. She enjoys "using my baking skills to bring sustenance to the workers."
Through Habitat, Ruthie now has deep connection to the community. "Habitat gives me a sense that I can help make somebody else's journey through life warmer, safer and more secure. What gives me great hope is when I see children getting off to a better start than they would have without Habitat."
---
Don Weiler knows home building and he also knows how Habitat can make a difference.
Seven years ago, he and Bailey & Weiler Design/Build decided to participate in Builders Blitz. Don says, "It was such a great experience, a great way for the Bloomington building community to come together for two weeks. You get to work with your peers; it's an opportunity for contractors, builders and suppliers to work on the same project." Don also enjoys the community involved in the process. "It's really about the people–Habitat, the future homeowners, and everyone working together."
Building a "blitz" home requires months of advance planning, with everything scheduled down to the hour. Builders and contractors bring their skills, tools and commitment to support the goal. Don shared, "Everybody's being efficient, and everybody is crawling on top of each other, but they handle it because they know the goal is to get the home done in two weeks."
The impact of a Builders Blitz goes beyond the actual build. Don was invited to meet with the family that purchased a Builders Blitz home two years after the build, and he got to catch up on how the family was doing. There, he received a special gift from the mother—a crocheted pillow with the Habitat logo. For Don, "The memories are focused on the people."
Mark you calendars and join us for our 2018 Home Builders Blitz Community Kick-Off– Thursday, January 25, 5:30 pm at the Habitat ReStore!
---