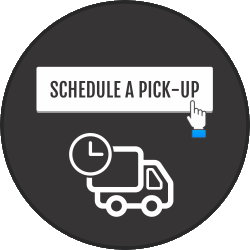 Habitat ReStore accepts donations of appliances, furniture, cabinets, building supplies and more. Your donations are tax-deductible and help Habitat for Humanity of Monroe County build more homes for hardworking, low-income families in need.
Drop-off donations: Donations are appreciated at 850. S Auto Mall Rd. Bloomington, IN 47401.
Our donation hours are 10:30am – 5:30pm, Tuesday – Friday and 9:30am – 4:30pm on Saturday.
Free Pickup Service:
Have a larger donation that you cannot bring to us? No problem!
Click here to schedule a free pickup.
For more details or assistance scheduling your donation pickup, call us at 812-331-2660.
Business Donations are very much appreciated. Watch the video below to learn how your business can benefit from partnering with Habitat ReStore.
Items We Love
Items We Cannot Accept
Don't see your item listed? Please call us at 812-331-2660.
Appliances
Baby Items / Toys
Area Rugs
Bathtubs
Building Materials
Blinds and Curtains

Cabinetry
Carpet
Doors
Clothing and Fabric
Flooring
Computers, Printers & Peripherals
Furniture
Dishwashers
Hand Tools
Electronics
Hardware
Fluorescent Lighting & Bulbs
Housewares
Hazardous Chemicals

Lawn & Garden Items
Hot Water Heaters
Lighting
Large Desks (more than 4' wide or 2' deep)
Picture Frames
Mattresses / Box Springs
Power Tools
Medical Equipment
Small Desks (less than 4' wide or 2' deep)
Open Paint
Tools
Pianos / Organs
Shower Stalls
Siding
Unframed Glass
Click to explore a list of other local organizations in the area that may be able to take the items we cannot.