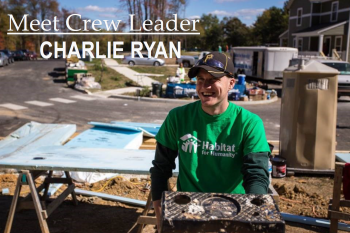 Charlie Ryan is an everyday superhero. He doesn't leap small buildings, but he does build them. He's not a doctor, but he does save lives. At 5 feet, 11 inches, this blue-eyed blond doesn't think of himself as anything special. He's a first-year, full-time biology major at IU who spends much of his free time as a crew leader for Habitat builds and as a volunteer EMT for campus events.
Charlie's dad, a Bloomington police officer for over twenty years, instilled in Charlie and his three siblings the importance of community service. "The Habitat chapter at North is considered the best in the nation," he says. "We sponsored 15 houses in as many years. It's a huge program. My brother did Habitat before me, and when I was finally able to go out to the site at 16, I had a phenomenal experience. The people are so amazing, welcoming, kind. I stayed involved."
Charlie later interned with the construction team and then trained to become a crew leader, building houses from the ground up. Most recently he took on the biggest volunteer job on a build site: house leader. In this role he oversaw a three-month build from start to finish by organizing crew leaders, mentoring a passionate group of North volunteers, and working side by side with the partner family.
Despite his ease with a hammer, Charlie had no prior building experience until his first day on a Habitat site. "You spend enough time on site," he continues, "you eventually pick things up. There's not much that can't be undone. You drive a nail in wrong, you pull it out. Everyone is more than willing to help teach, and it's okay to make mistakes along the way."