Women Build's 17th year in Monroe County!
MAY 17 UPDATE:  Women Builders! As you know, the weather over the past couple of weeks was challenging, and required us to intentionally delay parts of our build schedule to ensure that we build to the best quality standards for our future homeowners.
So…we are excited to invite you back to build with us for WOMEN BUILD 2.0: a series of build dates next month that will help us ready the Ault and Paz families' homes for move in!
If you are interested in joining us simply click on the link HERE and select your date(s). The options are:
Saturday, June 3rd – Special Ops Siding                                                              
Wednesday, June 7th – Wall Paint, Interior Door install, Trim
Thursday, June 8th – Wall Paint, Interior Door install, Trim
Wednesday, June 14th – Cabinets, Counter-tops, Hardware
Thursday, June 15th – Touch-up Day
Questions? Contact Cindy at: ec@monroecountyhabitat.org
THANK YOU for truly making our 17th year of Women Build in Monroe County the best yet!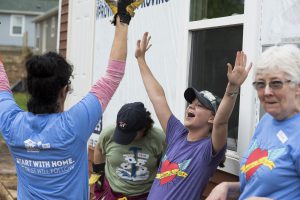 April 28 – May 13, 2017
*Join us for the dedication of the Ault and Paz families' homes on Saturday, May 13 at 4:00pm!*
Visit the official site of our 2017 Women Build page HERE to sign up to build or support one of our Women Builders!
Read about this  year's Women Build families:  The Ault Family and the Paz Family!
Habitat for Humanity's Women Build program promotes the involvement of women in the construction of Habitat houses. Women Build works with affiliates to nurture, recruit and train women to build and maintain simple, decent, healthy and affordable homes.
2017 marks 17 years of building new lives for Monroe County families.
All-women volunteer teams come together to swing hammers and raise roofs, and actively work to eliminate poverty housing in Monroe County, Indiana. It takes 325 volunteer builders, about 1600 volunteer hours, and $70,000 for land and materials to complete each home. Women Build is a safe haven for women to practice and excel, no matter what their skill levels. Each builder raises funds to secure a volunteer spot for one day of the build. No experience necessary – REALLY! – and you may sign up to participate on any day you choose. Meet new people and make new friends!