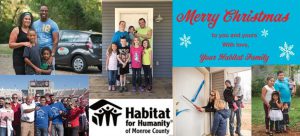 2017 is winding down.  What a year!
There is still time to contribute to Habitat for Humanity of Monroe County's annual goals and receive full tax-deductible benefits for the year!
Thanks to the unwavering support and generosity of YOU, our community, it's been an incredibly successful year.  However, there is still much to be done for the families who are working on their "sweat equity" hours and waiting for the opportunity to buy their home from Habitat.
These future homeowners look forward to the stability that homeowners like Dwayne & Kindra, Chelsen & Matt, Irving Castañeda Baltazar, Brad & Jennifer, and Maria Garcia & Juan Antonio have found.
You can make your credit card payment NOW through our website!
Thank you for your support of Habitat and affordable, decent housing.
We wish you Happy Holidays, and a safe and joyful New Year.