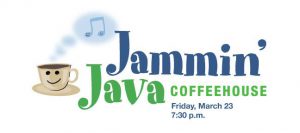 The Jammin' Java Coffeehouse, hosted by the Unitarian Universalist Church's Habitat Task Force on March 23, will benefit Monroe County Habitat for Humanity. The public is welcome to attend. The event features nine performances beginning at 7:30 p.m. at 2120 N. Fee Lane. Doors open at 7 p.m.
Headliners are Jenn Cristy, singer, songwriter and pianist, and Malcolm Dalglish, choral composer and director and dulcimer player with 15 recordings.  They will be joined by the Bloomington High School South Late Night Combo; the Heartland String Band; banjo player Ed Robbins and guitar player Julie Lawson; classical pianist Keaton Springfield; folk singer and guitarist Travis Puntarelli; guitarist and singer Dan Lodge-Rigal; and The String Academy Virtuosi, IU Jacobs School of Music.
Tickets are $15 for adults and $10 for youth 18 and under at the door. Come and enjoy good music, finger food, coffee and community in UU's Fellowship Hall. Visit Facebook for more details!