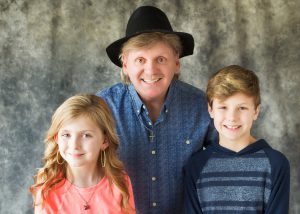 Herb Ault has come a long way: from the few and far between neighbors of Tennessee, where he grew up, to the support and love of a close-knit Habitat community in Bloomington.
After driving trucks for 24 years, Herb now routes buses for Rural Transit. After a coworker suggested he connect with Habitat for Humanity about a year ago, Herb called the office and attended a prospective homeowner meeting that very night. The rest is history.
Herb earned his required 250 sweat equity hours quickly—long before his home will rise as part of the 2017 Women Build. Herb is a well-loved volunteer at the Habitat ReStore for his hard work, dedication, and the endless supply of donuts he brings. "The Donut Man," as he is affectionately nicknamed, not only volunteers at ReStore, but in the main office and on job sites too.
Herb's Habitat journey marks a new beginning for his family. He is raising two grandchildren, John (10 years) and Elizabeth (9 years). John is looking forward to his birthday in May, when construction on his new home will finish just a few days later.
For the past four years, the Ault family has been living in a cramped two-bedroom mobile home. Now Herb dedicates much of his time to securing a better place for his grandkids. He insists that "things will turn around if you continue to move forward."
The Aults will eventually have more space, but also a permanent home in a college town. Herb, John, and Elizabeth look forward to being part of the Habitat community. It's been "a long row to hoe," says Herb, "but we're getting there. Habitat has been a blessing."
 The Ault Family's Home is Sponsored by: