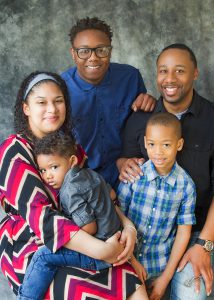 Although Dwayne Cole and Kindra Jones both work full time, they were paying 46 percent of their income for housing when they applied for a Habitat home. "I was tired of giving my money away and feeling that where I was living wasn't mine," says Kindra. "I didn't even want to decorate. I knew I wanted to own my own home."
"We decided it was time to start investing in ourselves," says Dwayne.
They took advantage of Habitat's classes in financial management to get their finances in order, and now they will have a new home for their three children: Davi'De, a freshman in high school; seven-year-old Isaiah who wants to be a basketball star; and Dwayne Jr., a three-year-old who is full of energy.
Kindra is the unit secretary on the oncology floor at IU Health Bloomington Hospital, and Dwayne works two jobs. He likes driving for Uber, whose customers include lots of local college students, because he says it's fun and he can create his own time schedule. He also enjoys driving for BeLoved Transportation, Inc., which provides transport to medical appointments. "I like helping people," he explains.
Dwayne and Kindra earned most of the sweat equity hours for their new home working at ReStore, where they made friends with other future homeowners and members of the Habitat community.
Dwayne already has a house plant for their Habitat home: "My grandmother was into growing things, and I have a cutting from one of her plants," he says. "She was a kind-hearted, warm person, and that plant is part of my grandma and part of me."  Dwayne also wants to plant a garden and have a fruit tree at his new home on Bloomington's south side. "When I was a kid, we had a cherry tree, and now I want to have a fruit tree for my kids."
"We're really ecstatic about making this our own home," says Kindra. "It's been a long road and lot of work. We initially found out about Habitat through a friend. Now we tell everybody about Habitat."
"I'm really happy and grateful for our new home," says Kindra. "It's a blessing," says Dwayne.