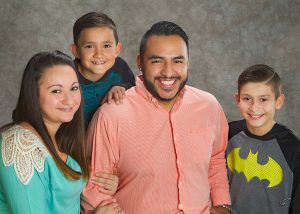 When Maria Gonzalez and Bory Colin sought homeownership through Habitat for Humanity, their family was living in a small apartment in a bad neighborhood. Maria, originally from Chicago, and Bory, originally from Mexico, wanted a safe place to raise their 12- and 9-year-old boys. Come March, they and Habitat volunteers will begin constructing the family's Cedar Chase home.
Maria and Bory have enjoyed working together, side by side, with the community. "It's not like going to work," Bory says about construction sites and the Habitat ReStore. "It's fun." Bory, who works in construction by day, likes building homes for other families—and especially for his own. Maria, a leasing agent, looks forward to an affordable mortgage. She is investing in her family's future and in financial education classes to set her family on a path toward stability and self-reliance.
Soon Maria and Bory's hard work will pay off. Their sons, Ruben and Isaiah, will have a big yard in which to play. The family will enjoy a safe neighborhood. Each member of the family has already shared existing skills, developed new skills, or met new friends. Maria encourages others to partner with Habitat: "It will give you a new start. If you need help, it's a good way to better yourself and your family."
The family's home is sponsored by:

Bloom Insurance Agency is an insurance services company established in 2007. The two primary branches focus on providing technology solutions to the insurance industry and providing experienced License Agents specializing in Medicare products to the insurance industry. Bloom Insurance is licensed in all 48 contiguous US states.