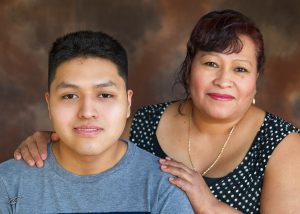 Imagine:  working 12 hour days, 6.5 days a week, coming home to an overcrowded house you share with your neighbors, and a room you sleep in with your family.  This is the situation that had Soccoro dreaming of living in a new place:  a home she could call her own.
Her journey to making that dream become a reality started 18 years ago when she started to move back and forth from Guanajuato, Mexico to the United States in order to financially support her five children, four of whom are still in Mexico.  With the love of her family continuously calling her back to Mexico, it was emotionally challenging for Soccoro to remain in the United States.  Knowing that she could take care of her family in Mexico and be with her husband in the United States, Soccoro made the decision to plant roots in Bloomington.  Soccoro has always believed that, "You get strong by caring about other people."
Since settling in Bloomington, Soccoro has gone through bouts of turmoil when, five years ago, her husband passed away and then two years later, she became ill.  After her own healing, she began to rebuild: securing a job at La Bonita and considering Habitat.
Thinking about the future of her son, Cain, an almost-17 year old Bloomington South student, and the freedom of owning her own home, Soccoro applied for Habitat.  Since being accepted, she has been putting her sweat equity into working at ReStore, where she has truly enjoyed her experience, and learning the ins-and-outs of homeownership via classes.
As Soccoro gets ready to embark on this next step in her journey, she feels like she is part of the bigger community, steadily working toward the day she receives the keys to her new home.  She reminds herself of the thing she is looking forward to the most: having a home that is her own.
The Hernandez Family's House is sponsored by: