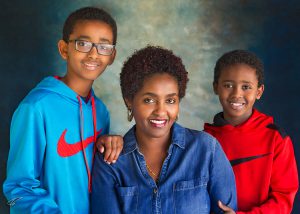 Start by doing what's necessary; then do what's possible; and suddenly you are doing the impossible. —Francis of Assisi
Meet Abebaye Kenea, and you will be enchanted by her warm smile. Get to know her, and you will learn of her quiet determination to build a good life for her two young sons.
Three years ago the family, including her then-husband, came a long way from Ethiopia so he could begin his studies at Indiana University. It wasn't long before she was on her own with Ebba, now age 11 and a sixth grader, and Doti, age eight and a second grader. Life as a single mom came unexpectedly, and it seemed impossible to Abebaye until friends pointed her toward Habitat for Humanity. Hope for a better life bloomed once again.
Because of her partnership with Habitat in 2017, Abebaye is on a path toward owning her own home in 2018 in Habitat's newest neighborhood Trail View. The family's home will be the outgrowth of an annual Builders Blitz, where local builders and suppliers donate material and labor for 12 days straight.
Abebaye acknowledges that getting away from apartment living is important to her. "The mortgage payment in my new home will be less than I've been paying in an apartment," she says. She continues to balance working in in food services at IU with her required volunteer hours on Habitat build sites and at ReStore. She is also taking her first money management class. "Before I started that class," she says, "I didn't know enough about the risks in using credit cards. Habitat has helped me understand the true cost of credit and how to manage it wisely."
Despite Abebaye's progress, she worries constantly about how to get everything done and still be a good mother to her sons. "I try to spend time with my boys when I can," she explains. "We have a membership at the YMCA, we like to spend time at the library, and church is important [to us]." In any remaining time she has, Abebaye has started classwork at Ivy Tech with the goal of becoming a nurse.
What does Abebaye tell people who ask her about Habitat? "I'm just so excited to be part of the whole Habitat family!"
The Kenea house is sponsored by Builder's Blitz 2018 Signature Builders:

Rubicon Custom Homes, Keystone Construction Company LLC and CNC Construction and Remodeling