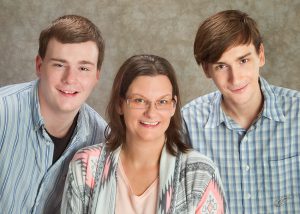 "I could not believe my ears when I got the lot offer. It still does not seem real. It will not feel real until I am in my house!" says Jennifer Lady.
Jennifer currently lives in a Section 8 apartment that she qualified for as a single working mom of two children. She says Habitat came along at a perfect time; as her children grew older and moved out, qualifying for Section 8 became a challenge and her rent went up dramatically. She is relieved that the mortgage for her Habitat home will be less than the rent she would have paid for her current apartment.        
So far in the Habitat program, Jennifer has completed nearly all of her classes and earned over half of her sweat equity hours at ReStore. She is looking forward to getting involved with construction for the remainder of her hours. Additionally, Jennifer has learned countless useful skills this year, such as public speaking, community event organization, and how to effectively manage her finances. "Rebecca and Erica are wonderful ladies. They have both helped with the Financial Planning class and keep me on track. I really appreciate them taking their time to help me out. They help me see the light at the end of the tunnel."
In terms of her new home, Jennifer has enjoyed picking out color schemes and design options with her dad and aunt. She looks forward to having a garden and considers herself lucky to have a large lawn accompanying her Habitat home. She is also excited that her pug, Zeus, will be able to relax outside in their new yard. The first thing Jennifer plans on doing in her new home is to invite family and guests to a house-warming party.
"I am just overwhelmed with gratitude to Habitat. I am not going to lie and say it is an easy program. It is a lot of hard work, but it is definitely worth it. I just feel very thankful that I was able to meet the program requirements and that buying my own home is becoming a reality."
The Lady Family's House is sponsored by:


Bloomington High School North Chapter