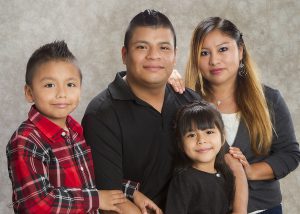 Mauricio Ocampo González, his wife Aída González Casique, and their children (Daniel, age 7, a first-grader at University School, and Ana, age 4, who is in her first year at Headstart) are filled with enthusiasm about their experience with Habitat and the opportunity to earn the keys to their new home.
After moving from the town of Sultepec, Mexico, Mauricio has principally worked in the restaurant business in his nine years in Bloomington, and he has worked at the Uptown Café for the last three of those years. Aída has been a fan of Bloomington from the beginning, saying that from the moment they moved here, she knew that this was where she was meant to be. The children love to play soccer, but their time in the fresh air is currently limited, because the parking lot outside their small apartment is not safe, and Mauricio has long hours during the work week and cannot easily take them to the park. Now they are ready for their own home—no more rent. Daniel is happy to share his thoughts about moving to their very own Habitat house: "I can't wait!"
Through the encouragement of local volunteers Daniel Soto and Clauda Viloria the family learned about Habitat, and they embraced earning the majority of their hours at ReStore. Mauricio loves to go on truck pick-ups—in fact, he requests shifts with the drivers. Both he and Aída, he says, "have met wonderful people" in their partnership with Habitat: "Everyone we've worked with, both staff and volunteers, offers help in such a friendly way." Classes also served as good opportunities to meet people and resources for learning things they didn't know.
As the family awaits the final stages before move-in, Mauricio would like to say something to one group in particular, the donors:  "Many thanks for making it possible for even more families to work with Habitat and eventually have their own homes."
The Ocampo González Family's Resale House* is sponsored by: 
Unitarian Universalist Church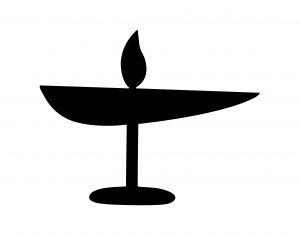 * Occasionally a Habitat family's circumstances may change.  Habitat has the first right to buy back a home purchased from us, which allows us to serve a family waiting in our program more quickly, and for just 1/7 the cost, of building a new house!  We are grateful to UU for sponsoring Mauricio and Aída's home.