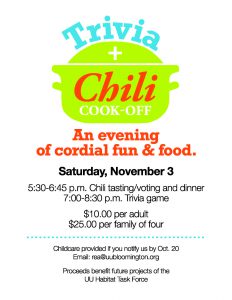 The Habitat Task Force at the Unitarian Universalist Church is hosting a new family-friendly event, Trivia & Chili Cook-Off, on Saturday, Nov. 3, to raise money for Habitat for Humanity of Monroe County.
There will be  about six types of delicious chili offered for people to taste and judge and a dinner of chili, salads, drinks and desserts will follow from 5:30 to 6:45 p.m. Then guests are invited to play a trivia game (projected on a large screen) from 7 to about 8:30 p.m. in UU's Fellowship Hall, 2120 N. Fee Lane. Guests are asked to play in small teams of three or four people. We will offer Habitat-related prizes to winning teams for each of the three rounds and an overall winning team.
Cost for the event is $10 per person and $25 for a family of four or more. We will have board games for children to play. More details about the event can be found online here.