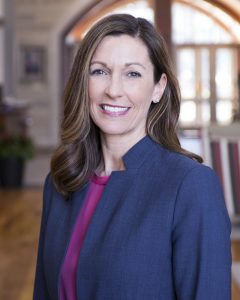 Wendi L. Goodlett, Director of Development for Major Gifts in the Indiana University Kelley School of Business has been appointed interim CEO for Habitat for Humanity of Monroe County by the Board of Directors.
"Wendi is an ideal person to lead the organization and advance our mission in the months ahead," said Jason Urbanski, President of the Board of Directors. "Her professional background and vast and diverse experience with Habitat for Humanity will serve our families, the affiliate and our community well as we move forward with many exciting projects and initiatives."
Wendi will begin her new role, full-time, with the affiliate on July 1, 2018.
"It is truly a privilege to assume this responsibility and broaden my commitment to Habitat for Humanity, and all it stands for, in this new role," said Goodlett. "I look forward to working with our families, excellent staff, the many dedicated volunteers, wonderfully generous donors and the Board of Directors to support the integral role Habitat for Humanity plays in Monroe County."
Goodlett has a bachelor of arts in communication from Hanover College. Much of her professional experience has been in the field of development and advancement, which is vital to Habitat for Humanity's mission and success. Additionally, she has worked tirelessly as a volunteer in many capacities over the last decade.
"Wendi has been heavily involved at many levels of the organization," commented Urbanski. "She has volunteered regularly as a construction crew leader, worked extensively in the Family Selection process and has served on the Board of Directors for five years". In 2013, Goodlett was awarded the affiliate's Volunteer of the Year award for her service to Habitat for Humanity.
A search for a permanent CEO will be announced at a later date.