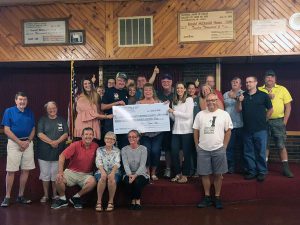 This past weekend the Bloomington Eagles Aerie (1085) presented Habitat for Humanity of Monroe County with a check for $11,318—the culmination of an entire year of their hard work and fundraising efforts for their annual President's Project.
According to Eagles auxiliary president Buffy McPike, "Habitat for Humanity was important to us because as an Eagle member, you take pride in what you help build–the creation of a home. Helping local families achieve their dream of homeownership and in-turn supporting children by giving them the chance to thrive in our community is a win-win."
Each year, the Eagles select a local non-profit organization to support and then spend the year raising money through many avenues.

"Giving back locally is so important to our aerie," commented McPike. "We do events and activities all year long, everything from yard sales and raffles to dinners and silent auctions. It all adds up."
Since making this intentional effort, the Eagles have raised close to $60,000 that has gone directly back into the Bloomington community. Next year's beneficiary is New Hope for Families.
"We are so honored to have been selected by the Bloomington Eagles as this year's President's Project recipient," comments Wendi Goodlett, president and chief executive officer for Habitat for Humanity of Monroe County. "These funds will make a strong and direct impact in helping families in Bloomington take steps towards home ownership and in ending the cycle of poverty."
For more information about the Bloomington Eagles and their efforts here in Monroe County, visit their Facebook page.