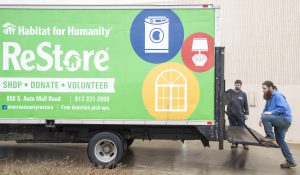 After collecting surveys and requesting feedback from our donor constituency and loyal customers, our Habitat for Humanity of Monroe County ReStore team has implemented some changes to the ReStore's hours.
Deemed Summer Hours in this initial phase, the team will be evaluating everything  to make sure this is a good fit for the store as well as our supporters. Shopping and donating hours have been extended on two days and on Mondays the store will only be open to accept donations.
New Hours:
Monday: 10:30am-5:30pm, open for drop-off donations ONLY (no retail hours)
Tuesday: 10:30am-5:30pm
Wednesday: 10:30pm-6:30pm
Thursday: 10:30am-6:30pm
Friday: 10:30am-5:30pm
Saturday: 9:30am-4:30pm
Sunday: CLOSED
For more information, updates on merchandise and general sales and promotion, visit the ReStore Facebook page.